If you were to ask yourself "Which feature is missing in Waze?", it is very likely "lane guidance" will top your list. This doesn't surprise us as it has been one of the most requested features within Waze for years. As of today, this will no longer be a request, but a reality! This rollout to the userbase has completed on August 11.
Lane guidance in the app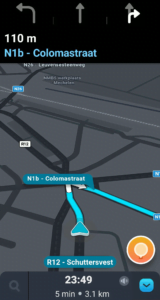 Lane guidance shows you which lane you should be in at an intersection. So whenever you need to turn left or right on an intersection with multiple lanes, Waze will highlight the lanes you can use. On highways and major streets, this information will display roughly a kilometer in advance of the turn. On minor streets, this information displays roughly 400 meters in advance. Note that the information shown is only valid at the intersection where you are expected to turn! There may be other intersections between you and that intersection.
The Belgian community of volunteers has been hard at work to add the data to the map to enable this. This is a manual intervention that requires quite some labor time. We have finished adding the information for all motorways and now, the focus moved to the major streets. real money online casino in Australia Therefore, it is still normal not to find lane guidance at some points. This is still a work in progress and will probably take a couple more months to complete.
You don't need to do anything to see the lane guidance arrows. Whenever you get instruction, for intersections where lanes are present, the app will display them. If you see a data issue with one of the lanes, feel free to leave a "Map issue" report in the app. An editor shall pick up the request and you should see it fixed in the app within a couple of days.