Going back to school every year is a moment when traffic also says goodbye to the holidays. At that same moment, during rush hour, children return to the school gate, either on their own or with their parents or guardian. After the holidays, these road users need to get used to the traffic hustle again. This causes the risk of an accident to be higher than usual. So we all have to be extra careful!
This year, our Waze Belgium volunteers have expanded the back-to-school action to almost all primary and secondary schools in Belgium. They have manually marked more than 8700 school entries on the Waze map.
This project is supported by the "Waze for Good" program of the app maker Waze. They are sponsoring a screen-wide in-app advertisement, shown only at standstill of course. This will be shown to the more than 40,000 app users who are daily on the road during rush hour. On August 28 (French-speaking community) and on September 1 (Dutch-speaking community), a virtual road sign will also be placed at many school entrances to urge for extra care!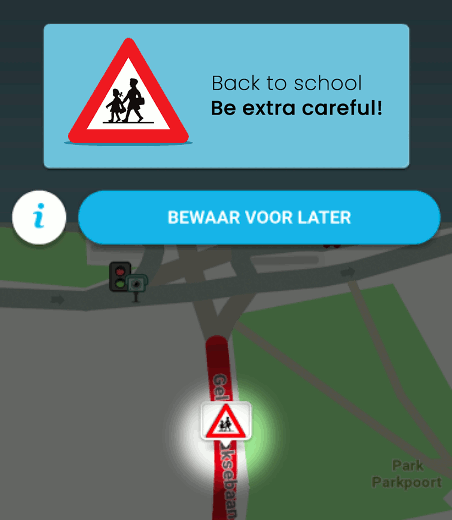 These locations are visualized during school rush hours. Drivers using the app receive a visual indication and often an audible warning at a sufficient distance from the school gate.
In this way, app users can take into account the hustle and bustle of the area. Choose an alternative route if possible, and be extra vigilant for children that cross the road or cycle.  Do you bring your own children to the school gate? Arrive a little earlier and preferably choose a parking space at a short distance from the often too busy school entrance.
We wish everyone a pleasant, and above all, safe first school and working week!
The Waze Belgium Volunteers