A couple of days ago, Waze added support for railroad crossing alerts. The Waze app now contains over 1200 railroad crossing alerts in Belgium.
Improving safety
Waze is a free GPS navigation app for your smartphone, which alerts you of dangers on the roads as well. Examples of reported dangers are road accidents, broken down vehicles, objects accidentally left behind, and road works. Also, users report traffic jams, police checks, and speed cameras through the app. Drivers can report these dangers, which alerts fellow drivers in the neighbourhood in real time. If possible, Waze will provide an even better route. Belgium authorities started using these real time alerts to detect incidents faster. So, whenever you drive with the Waze-app, you're not only helping your fellow Waze drivers, your alerts increase road safety and may even speed up fixing dangers as well!
At railroad crossings, accidents tend to have serious consequences. Therefore, Waze now expands the alert repertoire with railroad crossing alerts in order to improve drivers' safety.
Distraction causes 4 in 10 accidents
There are too many accidents at railroad crossings in Belgium. In 2019, there were 45 accidents that resulted in 7 deaths and 6 people getting gravely injured. Due to hurried driving or being under time pressure, people often ignore the red lights, closed barriers, and sound signals. Distracted driving and bad visibility like sun glare are the cause of 4 in 10 accidents at railroad crossings.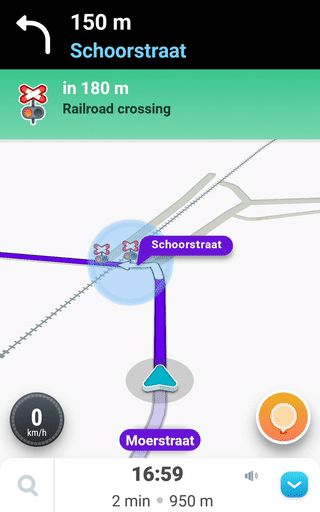 Railroad crossing alerts in Belgium
Trains and cars do not mix, so it seems. Hence, the Belgian Waze community added over 1200 railroad crossing alerts in Belgium. This will surely add to increased safety at railroad crossings.
Waze shows every crossing with an icon on the map. To strengthen the driver's attention, we added an audible notification when a railroad crossing has no physical barriers to stop traffic, or when it can't be seen within 100 meters in advance. The audible notification can be disabled in the app's settings.
Railroad crossings are fixed alerts directly entered in the Waze Map. Using data provided by the Belgian rail infrastructure manager Infrabel, our team of volunteers have scanned the map manually and entered the information.
If you encounter a missing alert on your route, please report a map issue via the orange button and the map editors will add it within a few days. The map issue report can be used for all kinds of feedback. The Belgian Waze community will be happy to improve your driving experience in (many) Wa(ys)ze.
Do you want to help?
Do you know that a team of local volunteers keeps the map of Waze (and this website) up to date? Some of them help by keeping their local area up to date, others host giant map raids to improve the map quality, and some write press releases like this one. Scanning local municipality websites and social media lead to the most up-to-date map for navigation. The Belgian Waze community highly values all improvements, no matter their influence in routing. Even the smallest input helps fellow users of the Waze app. If you like to contribute, feel free to join us on our Slack chat platform. It's an open, useful and very constructive hobby, at least that's what we think! If you want to learn more before joining, check out this fun video. We'll welcome you into our exciting community.