The summer holiday has come to an end, marking the return of a lot of children to their schools. To increase safety, the Waze Belgium community has added alert markers at most school entrances.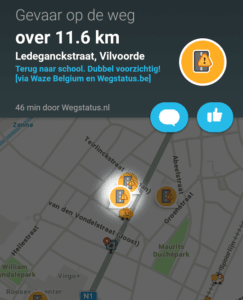 The start of the new school year seems like the perfect moment to remind all drivers to be even more careful than usual when they are near a school, especially in the first few weeks. Children may sometimes make mistakes as they might have no experience with their new school's surroundings. As such, they might make unexpected manoeuvres. It is up to all of us to prevent such mistakes from becoming a news item.
For this reason, the Waze Belgium community volunteers worked together to list more than 2800 primary school entrances or nearby roads in Flanders. During this first week we want to give drivers a reminder to pay closer attention to children at these locations. Therefore alert markers have been placed at these points on the map. These will be visible only during the morning and evening hours for the first week of school.
A special thanks to Wegstatus.be for helping us out with pushing the notifications to the app!
We will continue to expand this initiative in the following years. We are looking at including Brussels and Wallonia and the secondary schools in Flanders.
Have a safe drive and good luck in the new school year to all pupils!