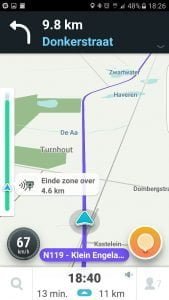 From now on Waze will be able to help you with the new trajectory controls that are being installed in Belgium. After lobbying by the several European Waze communities in countries where these are being installed, Waze decided to implement this in the app.
From now on you will get an indication on the left of your screen showing how far along you are in the zone. We have also asked for a visual indication on whether or not you are driving too fast, but at the moment that part of the feature seems to cause quite a bit of a debate.
Even so: it's a great addition to the feature set of Waze!